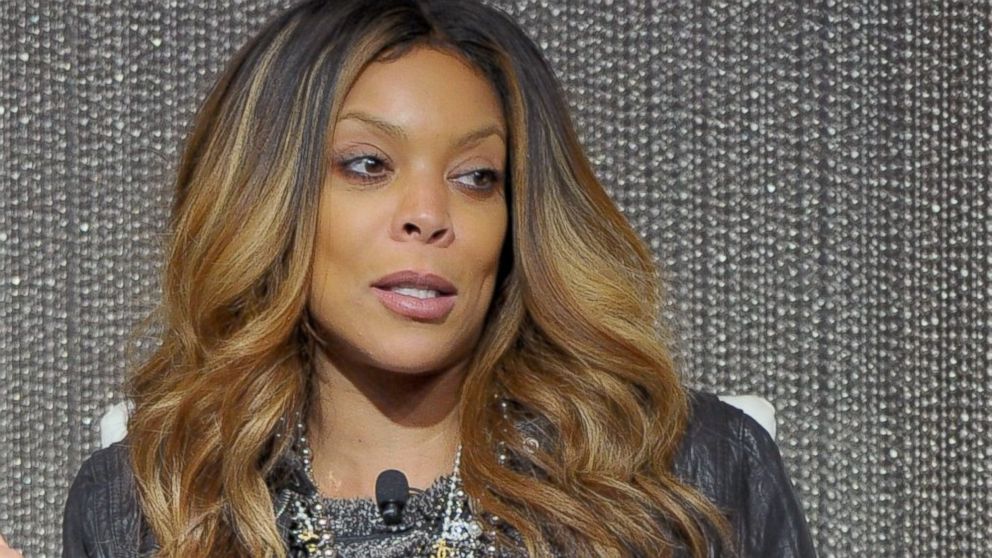 Author, television and radio talk show host Wendy Williams was born on July 18, 1964, in Asbury Park, New Jersey. Williams' oversized, brash personality made her a force on the New York City FM airwaves. She is now the host of the BET television program,The Wendy Williams Show.
From an early age, Williams stood out. One of three children born to Thomas and Shirley Williams, she moved with her family at the age of five from Asbury Park to the middle class community of Ocean Township, New Jersey, where she spent the rest of her childhood.
At the outset, Williams says, she "spoke too loud, too fast, and too much," a characteristic that was in sharp contrast to her older, more bookish sister Wanda, a straight-A student who attended Tufts University at the age of 16.
Williams, on the other hand, was not an academic wonder. She was a big girl who, by the sixth grade, already stood 5'7" and wore a size 11 shoe. With her parents pushing her, however, Williams became involved in many extra-curricular activities. She was a girl scout, played clarinet in the marching band, and competed on her high school swimming team. When it came time to select a college, she followed in Wanda's footsteps and relocated to Boston, where she attended Northeastern University and graduated in 1986 with a degree in communications and a minor in journalism.
Prior to achieving success in daytime television, Williams built a devoted audience of fans throughout an enormously successful 23-year career in radio. "The Wendy Williams Experience" was Williams' top-rated, daily radio show. Syndicated nationally, it aired on WBLS in New York and was listened to by an audience of more than 12 million people. One of the most popular personalities in radio, Williams was inducted into the National Radio Hall of Fame in November of 2009 – one of only a handful of women with that honor.
Williams leveraged her success on the radio into other opportunities, authoring a pair of New York Times bestsellers (Wendy's Got the Heat and the Wendy Willliam Experience); writing a few novels; and landing on television. She hosted her own show on VH1 and, in the fall of 2007, made appearances on NBC's Today Show to dish on the latest celebrity gossip.
In the summer of 2008, her television exposure enhanced significantly with a trial run of BET's The Wendy Williams Show. The program's ratings motivated network executives to greenlight a full-scale run of the show the following summer. In November 2008, while waiting for the premiere of her new program, Williams was inducted into the National Radio Hall of Fame.
On July 13, 2009, Williams debuted her new television program. The show drew from her radio show's format, mixing in celebrity dirt, celebrity interviews and advice to audience members. Several weeks later, on July 31, 2009, she announced her retirement from radio. On November 19, 2009, Williams' producer announced that the show was confirmed for the 2011-12 season.
Expanding her media footprint, Williams and her husband Kevin launched the non-fiction television programming company Wendy Williams Productions (WWP) in 2013. The joint partnership with Debmar-Mercury, the producers of "The Wendy Williams Show", sees WWP finding, developing and producing original programming.
2013 also saw the launch of another entrepreneurial endeavor with Wendy's own line of wigs: Wendy Williams Hair World™ Collection. Having been diagnosed over a decade ago with a thyroid condition that causes thinning hair, Williams has long been a proud and outspoken supporter of hairpieces. Following years of wearing, styling and openly talking about wigs on her show, Wendy is a recognized expert in the field.
With TV, Broadway and film performances to her name, Williams is a seasoned performer, both as herself and in character. Her television credits include an appearance on NBC's "30 Rock" as herself, competing on Season 12 of ABC's "Dancing With The Stars," hosting Game Show Network's original series "Love Triangle," and appearing as a featured guest on ABC's "One Life to Live" and Lifetime's "Drop Dead Diva". In 2012, she made her major motion picture debut in Steve Harvey's "Think Like A Man." More recently, she made her Broadway debut, taking center stage as Mama Morton in the Tony-winning revival of the musical "Chicago".
Williams is the author of The New York Times best-seller "The Wendy Williams Experience" (Dutton Books), as well as several novels including "Ritz Harper Goes to Hollywood." She contributes a regular celebrity hot topics column to the entertainment magazine Life & Style Weekly.
Williams earned a Bachelor's Degree in Communications with a minor degree in Journalism at Northeastern University in Boston, Massachusetts. Both of her parents were university professors and Williams remains an advocate for education at all levels. Williams credits the start of her career with her decision to take an internship at a radio station on St. Croix, Virgin Islands immediately following her graduation from college.
Williams grew up in Ocean Township, New Jersey and currently lives in Northern New Jersey with her husband and their teenage son Kevin, Jr.
http://www.wendyshow.com/wendy/meet-wendy/
http://www.biography.com/people/wendy-williams-524056?page=1