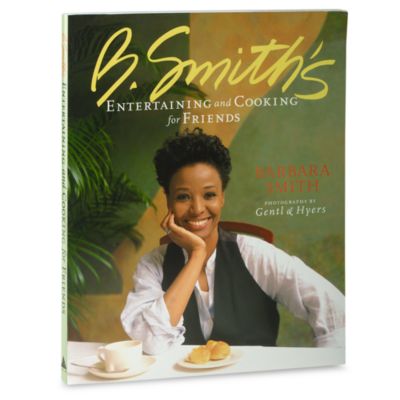 B. Smith was born Barbara Smith on August 24, 1949 in Pittsburgh, Pennsylvania. Smith merges cultures through a shared appreciation for style.She has been heralded by The New York Times as "a Renaissance woman," by Chuck Scarborough as a "domestic goddess," by The New York Daily News as "one of the most important African-American style mavens of all time," and honored with a 2012 Silver Spoon Award for sterling performance by Food Arts. A broadcast talent, entrepreneurial spokesperson and multiple award-winning recipient across a wide range of fields, Smith also earned kudos when she returned to the stage in her Off-Broadway debut in "Love, Loss, and What I Wore," the award-winning play by Nora and Delia Ephron. In 2012, Smith was inducted into the American Chef Corps, part of the U.S. Department of State newly-formed Diplomatic Culinary Partnership with the James Beard Foundation.
SiriusXM Radio Celebrity
Smith has teamed up with husband and business partner Dan Gasby (pictured) for their first-time radio show with the world's largest radio broadcaster. "The B. Smith and 'Thank You Dan' Show" is a daily, three-hour show on SiriusXM's Urban View station, channel 128. More than 23 million subscribers can join in on their insightful conversations about healthy living, food, entertaining, succeeding in business, as well as sharing their secrets to a successful relationship.
United States Culinary Ambassador

In September of 2012, the U.S. Department of State and the James Beard Foundation launched the Diplomatic Culinary Partnership, a collaborative initiative to elevate the role of culinary engagement in America's formal and public diplomacy efforts. As part of this endeavor, B. Smith was inducted into the newly-created American Chef Corps, the official network of chefs from across the country who have agreed to serve as resources to the Department of State. In this position, Smith assists the Department in preparing meals for foreign leaders, and participates in public diplomacy programs that engage foreign audiences abroad as well as those visiting the United States.
Groundbreaking Fashion Model

A native of Pennsylvania, Smith began her career as a fashion model, gracing the covers of 15 magazines and becoming the first African-American woman on Mademoiselle's cover in July 1976. Her image can be seen on a line of olive oil, as well as Betty Crocker and Pillsbury products. In addition to TV commercials for Mercedes-Benz, she has served as a spokesperson for Verizon, Colgate Palmolive Oxy and McCormick's Lawry seasonings products.
Multi-Faceted Media Personality

A respected expert in affordable-yet-elegant living, B. Smith brings style to everything she does. For nearly a decade, Smith hosted the nationally syndicated/cable television show "B. Smith with Style" that aired on NBC stations in more than 90% of U.S. households and in 40 countries. Her effervescent personality and creative ideas also impact audiences via her appearances on programs such as "Good Morning America," "The Today Show" and. She and Gasby produced four specials for TV One, the lifestyle cable network for African-Americans. A former columnist for Soap Opera Digest, Smith was the host of the "B. Smart Tips for a Better Life" radio program.
Stage acting
Smith accepted a role in the off Broadway play Love, Loss, and What I Wore for an April 27 through May 29, 2011 run with Conchata Ferrell, AnnaLynne McCord, Anne Meara, and Minka Kelly.
Successful Restaurateur

Smith extends her lifestyle expertise as the owner of three successful B. Smith restaurants. Recognized by Elle Décor as one of America's ten most outstanding non-professional chefs, she opened her first restaurant in 1986. Her longtime establishments include those on Restaurant Row in New York; in the historic Beaux-Arts Union Station in Washington, D.C.; and the scenic Long Island Hampton village of Sag Harbor.
Transcultural Lifestyle Pioneer

Smith is at the forefront of a trans-cultural movement across all her brand extensions. Her flair for décor, demonstrated in the ambiance of her restaurants, led to the development of her first home collection, which debuted at Bed Bath & Beyond in 2001. The B. Smith with Style Home Collection is the first line from an African-American woman to be sold at a nationwide retailer and includes bedding, tabletop and bath products.
From duvets to doormats, Smith's décor line continues to grow with a variety of pieces for entertaining and home and incorporates her signature "Afrasian" design concept, which merges core African and Asian elements. Her specialty serve ware, launched in 2004, has expanded to include over 300 sku's. In 2009, Smith introduced B. Smith Home featuring home goods; an upholstered furniture line with Miles Talbott; as well as area rugs from Surya, and wall art from Picture Source. Her first foray into food products is a line of cold-pressed extra virgin olive oil from Italy that is sold in more than 2,000 stores across the country and online.
Military Partnership

B. Smith Enterprises joined with the Armed Forces as another way to give back to our country. In a unique partnership with Ready Pac, Smith is bringing delicious meals to our servicemen and women that reflect their true cultural diversity. Among the products Smith serves our troops domestically and abroad are Pablano Corn Chowder, Collard Greens, Maple Honey Mashed Sweet Potatoes, Red Beans & Rice, and Jambalaya.
Distinguished Author

Smith has authored three home entertaining books: B. Smith's Entertaining and Cooking for Friends (Artisan Press), the first tabletop entertainment and lifestyle book by an African American; B. Smith: Rituals and Celebration (Random House), a James Beard Foundation Award nominee, one of Food & Wine magazine's best cookbooks of 1999 and an American Library Association Black Caucus Literary Award winner; and B. Smith Cooks Southern-Style (Simon and Schuster), boasting 200 recipes and flavorful tips for reducing calories.
National Spokesperson and Multiple Award Recipient

Smith is a coveted speaker whose accomplishments include a role in the prestigious Harvard Business School's Dynamic Women in Business Conference and the honor of being a presenter at the American Museum of Natural History's Global Weekends celebration, Kwanzaa 2012: First Fruits of the Harvest. She has been honored with the Earl Graves Entrepreneurial Award (2008), a BET Honors Award for Entrepreneurship (2009), a Black Enterprise Legacy Award (2010), the Visionary Leader Award from the National Kidney Foundation (2011), the Washington, D.C. Chamber of Commerce (2011) and Amas Musical Theater with its "Rosie Award" (2012) in celebration of her transcultural approach to fashion, food and décor. Smith is also the national spokesperson for the African American Experience Fund (AAEF) of the National Park Foundation (NPF) to raise awareness of our country's National Parks and Historic Sites.
A tireless advocate for healthy lifestyle choices, Smith has also been a national spokesperson for Merck's "Journey for Control" program and addressed the Congressional Black Caucus. Currently along with her husband, they serve as national spokespeople for the National Kidney Foundation (NKF). Most recently, she was on a White House Minority Health Town Hall panel with Cecilia Munoz, Director of Domestic Policy Council, The White House; Kathleen Sebelius, Secretary, U.S. Department of Health & Human Services; and Dr. Regina Benjamin, Surgeon General, U.S. Department of Health & Human Services.
http://bsmith.com/about/about-b/
http://en.wikipedia.org/wiki/B._Smith